Baseboard Heating
Question Topic
Baseboard Heating Heater Does Not Work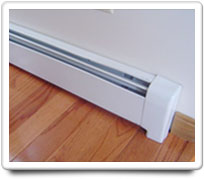 Home-Wizard™ calculates your ideal home care program to avoid problems with your Baseboard Heating, but sometimes trouble can still occur. Here are answers to questions about baseboard heating heater does not work.

QUESTION FROM Judy
I just recently moved into this home that I bought from a bank. It has electric baseboard heaters in every room. The one in the kitchen was working great, but now nothing, it's like it is not even coming on. I will have to take the face cover off to see what the make is on it. It's about 5' with a turn knob with numbers.
---

ANSWER FROM HOME-WIZARD
Dear Judy:

If your electric baseboard heater has suddenly stopped working, here are a couple of things that you can check:

1) Of course, try turning the thermostat all the way up, and seeing if this gets the heater to turn on.

2) Check your circuit breaker for the heater to see if it has tripped. Since you said you had just moved into your house, it may be a matter of becoming familiar with where the circuit breakers are, and which one is specifically for your kitchen electric baseboard heater.

3) If neither of these work for you, one other thing you can try if you are handy, is to take one of the thermostats from the other rooms that you know work, and then swap it with the one in the kitchen to see if this gets the kitchen heater to work. That is, to find out if your kitchen's thermostat is bad.

If none of these work for you, then you will want to call a certified technician to inspect the unit.

Please remember that many electric baseboard heaters run on 220 volts, so you will want to be VERY CAREFUL when working around any of the wires around your heater.

Also, you might want to check on the cost of a replacement heater. You may find that it is more economical to just replace the unit rather than paying to have a service technician spend a lot of time trying to troubleshoot and repair your existing heater.

Hope this is helpful.
Home-Wizard.com

QUESTION FROM John S.
I have a Honeywell portable basebord heater. The power is on but produces no heat? model #HZ519

Thanks
---

ANSWER FROM HOME-WIZARD
Dear John S:

It sounds like you have a Honeywell brand low-profile portable electric baseboard heater with digital controls. If you have turned on the power, and you are not getting any heat from it, then here are some things you can check. But first and foremost, you should be careful, as with any potentially faulty electrical appliance, there is the risk of electric shock. Electric Baseboard Heater Troubleshooting checklist: 1) Try unplugging the unit and then plugging it into an outlet in a completely different part of your home, where you know that they electrical outlet is working fine (like where you have a lamp pulled in). If it works there, but not at the original location, then you should check to see if you have tripped a circuit breaker for the original location. 2) Turn the thermostat all the way up to the highest setting. If the thermostat is not working properly, it could just be not coming on at the right setting, so by turning it up further, it may allow the unit to kick on (albeit at not the right temperature). 3) Your particular model (Honeywell # HZ 519) has a built-in timer to shut off the heater at a preset time up to 10 hours on 1-hour-increments. You might want to check to see if this is set properly (but this would seem to affect it shutting off early, rather than not turning on properly). 4) Be sure your heater is clean. And use a blower to remove any dust which may have accumulated on any of the controls. 5) Remove any objects (including curtains, furniture, etc.) that may be impeding the airflow of your heater. Lack of proper air flow could be causing a safety feature to trip the unit. Beyond these, it would require opening the unit to test the thermostat circuit, etc, and this typically best left to a trained professional with the appropriate voltage testers, etc.

Hope this is helpful.
Home-Wizard.com