Barbecue Grill (gas)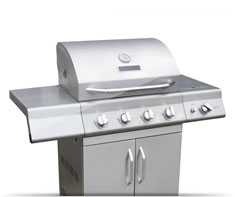 A gas Barbecue Grill is an outdoor cooking grill that burns either natural gas or propane.

If a gas Barbecue Grill uses propane for fuel, then it can either be moveable model with a small tank of propane, or it can be a stationary model with the propane delivered through piping from a larger propane tank located somewhere on your property. If a gas Barbecue Grill uses natural gas for fuel, then it needs to be a stationary model.

If your barbecue grill uses charcoal rather than gas, then you should instead put a checkmark for 'Barbecue Grill (charcoal)' in your Home Wizard app if you have a full-size grill, or 'Barbecue Grill (hibachi)' if your grill is a small portable charcoal model.
Shown in the 'Routine Care' section are the recommended routine maintenance tasks for your barbecue grill (gas). The 'Q & A' section shows answers to common questions. And the 'Articles' section provides helpful articles about your barbecue grill (gas).
Routine Care
There are no routine care tasks for this feature.
Barbecue Grill (gas)