Freezer (stand-alone)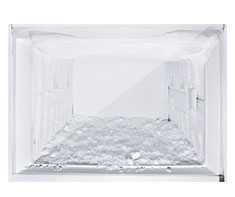 A Freezer is a household appliance that uses electricity to run components which reduce the temperature inside of the compartment where food is stored to below 32 degrees Fahrenheit (0 degrees Celsius), which is the temperature at which water freezes.

A 'stand-alone' model Freezer is a unit that only has a freezer compartment and does not have a refrigerator section. If you have a model that has both a freezer and a refrigerator compartment, then you should instead put a checkmark for 'Refrigerator / Freezer' as one of your home features in your Home Wizard app.

A stand-alone Freezer can be either an 'upright' model where the doors open left or right, or a stand-alone Freezer can be a model where the door opens up and down.

A freezer operates much like a refrigerator, except that it is designed to produce much colder temperatures. As such, a freezer consumes a significant amount of electricity and should be properly maintained to achieve its best possible energy efficiency and to ensure proper food safety.
Shown in the 'Routine Care' section are the recommended routine maintenance tasks for your freezer (stand-alone). The 'Q & A' section shows answers to common questions. And the 'Articles' section provides helpful articles about your freezer (stand-alone).
Freezer (stand-alone)