Hot Tub Spa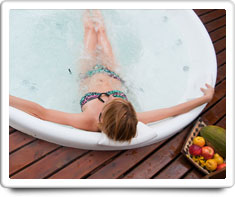 A Hot Tub Spa is a small pool or bath (sometimes called a 'Jaccuzi'), that typically has whirlpool air jets and is designed to operate at high temperatures (about 100 degrees Fahrenheit).

A Hot Tub Spa can be either outdoors or indoors.

If your Hot Tub Spa uses natural gas or propane to heat the water, then you should also put a checkmark for 'Pool Heater (gas)' to include this a part of your home features in your Home Wizard app.

Keeping a hot tub spa clear and clean involves balancing 4 key elements:

- Sanitizer levels (kills bacteria and helps control algae growth).

- Water circulation and filtration (removes particulates and debris).

- pH and temperature.

- Regular brushing and vacuuming.
Shown in the 'Routine Care' section are the recommended routine maintenance tasks for your hot tub spa. The 'Q & A' section shows answers to common questions. And the 'Articles' section provides helpful articles about your hot tub spa.
Routine Care
There are no routine care tasks for this feature.
Hot Tub Spa