Windows
Question Topic
Window Replacement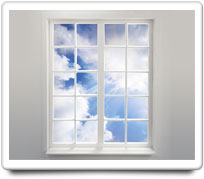 Home-Wizard™ calculates your ideal home care program to avoid problems with your Windows, but sometimes trouble can still occur. Here are answers to questions about window replacement.

QUESTION FROM Michael Allen
I have broken the glass in the top sash in a 30 year old three channel aluminum storm window. I have no idea who manufactured the window, though I have had identical windows in other houses...is there a company that can replace the broken glass so that I can use the same frame, or might I just have to hunt around to find a replacement which will fit my existing track? The window is on the third floor of an 18th century brick house, removal of the old track to replace the entire unit would be quite difficult, and everything else about the window works fine. However, do you think total removal and replacement might be the only way to go?
---

ANSWER FROM HOME-WIZARD
Dear Michael:

To answer your question, yes, you should be able to replace the glass from your storm window. Here is a webpage that describes how you can do it:

http://www.pickenswindowparts.com/storm_windows.html

And here's another one with illustrative photos: http://www.dummies.com/how-to/content/how-to-replace-a-broken-glass-pane-in-a-metal-stor.html

If everything else about your window works fine, and is in good shape, I would think that you would want to just replace the glass.

If replacing the glass yourself is not something that you are comfortable doing yourself (since you need to be VERY CAREFUL not to damage the spline that holds the glass in place, and of course, you need to be EXTREMELY CAREFUL working around glass to ensure that you protect your eyes, hands, etc. from broken glass fragments), then you should consider finding a local handyperson, glass or hardware store who can do the job for you.

Hope this is helpful.
Home-Wizard.com