Radiators
Question Topic
Radiator Replacement Parts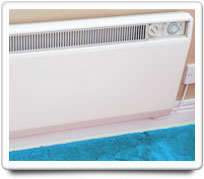 Home-Wizard™ calculates your ideal home care program to avoid problems with your Radiators, but sometimes trouble can still occur. Here are answers to questions about radiator replacement parts.

QUESTION FROM Rich
the knob that turns on the radiator is stripped. What is the best way to fix or replace the knob?
---

ANSWER FROM HOME-WIZARD
Dear Rich:

Here is a list of parts suppliers for radiant heating systems:

http://www.traditional-building.com/article/radside.htm

You might want to check with one near you to see if you can put some penetrating oil on your valve, and if they have something that will reverse thread to replace your stripped knob. If not, then they could have a replacement valve stem, etc. for you.

Hope this is helpful.
Home-Wizard.com

QUESTION FROM r picco
i have hydronic heating system, however when installed there was n't enough heating fins attached to the piping, where can i find replacement or extra fins to attach to my heaters??
---