Garbage Disposal
Question Topic
Garbage Disposal Clogging Problems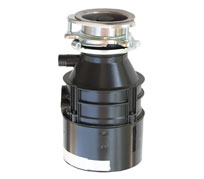 Home-Wizard™ calculates your ideal home care program to avoid problems with your Garbage Disposal, but sometimes trouble can still occur. Here are answers to questions about garbage disposal clogging problems.

QUESTION FROM Laura Flowers-McLinn
I just filled up the sink with onions and other produce and turned the garbage disposal on. The water will not go down now and the stuff is in the sink. It is chopping it all up, it just won't go out. What is wrong? WHat can I do?
---

ANSWER FROM HOME-WIZARD
Dear Laura Flowers-McLinn:

If your garbage disposal is running fine, that is, if the motor is turning freely when you turn the switch on, but the water is not going down the sink, then the culprit is likely a clog in the drain pipe coming out of the bottom of the garbage disposal.

The first thing you should try is to use a toilet plunger to loosen whatever has clogged your drain pipe. NOTE: Do NOT use a plunger if you have put any drain cleaner chemicals into your sink, as you do not want to risk any of it splashing on you. But if you haven't put any chemicals in yet, then its alright to use a plunger.

If you have a dual sink, then use wet rags or towels to stop up the sink that does not have the disposal. Place the plunger over the disposal opening. If the plunger is not completely under at least about 3-4 inches of water, then add some more, so that the plunger will have a good seal. Then push the plunger strongly up and down.

If this does not get your water flowing freely, then the next step is to try using a product like Drano, which is "guaranteed" to get your drain flowing again. Well actually, by "guaranteed" they mean that if it fails to clear your clog, then they will gladly refund what you paid for their product (so save your receipt). Depending on what is clogging your drain pipe, it may actually require a professional to remove the obstruction if Drano doesn't work. But a product like Drano is a great place to start.

Note: Drano claims its products are safe for garbage disposals, with the exception of Drano Kitchen Crystals Clog Remover. Please remember to READ ALL DIRECTIONS CAREFULLY. In particular, you do not want to turn on your disposal and have Drano splash back on you.

Hopefully either the plunger or Drano will solve your clog problem, but if you want to avoid this kind of problem with your garbage disposal in the future, you should follow the routine maintenance tasks for your garbage disposal that are described in the Home-
Wizard Maintenance Library: http://www.home-wizard.com/maintenance/garbagedisposal.asp

And please remember, NEVER put your hand into your garbage disposal. Even if it is unplugged, the blades are very sharp and can cut your fingers.

Hope this helps.
Home-Wizard.co

QUESTION FROM Cheryl W.
If the garbage disposal is running, but will not drain, backs up, probably due to overload, is there a chemical you can use to unplug the drain?
---

ANSWER FROM HOME-WIZARD
Cheryl:

If your garbage disposal is running fine, that is, if the motor is turning freely when you turn the switch on, but the water is backing up in the sink, then the culprit is likely a clog in the drain pipe coming out of the bottom of the garbage disposal. If you haven't already, you might want to try "Drano", by SC Johnson Wax, which is "guaranteed" to get your drain flowing again. Well actually, by "guaranteed" they mean that if it fails to clear your clog, Johnson Wax will gladly refund what you paid for their product (so save your receipt). But depending on what is clogging your drain pipe, it may actually require a professional to remove the obstruction if Drano doesn't work. But a product like Drano is a great place to start.

Note: Johnson Wax claims that all Drano products are safe for garbage disposals, with the exception of Drano Kitchen Crystals Clog Remover. Please remember to READ ALL DIRECTIONS CAREFULLY. In particular, you do not want to turn on your disposal and have Drano splash back on you.

Hopefully Drano will solve your clog problem, but if you want to avoid this kind of problem with your garbage disposal in the future, you should follow the routine maintenance tasks for your garbage disposal that are described in the Home-
Wizard Maintenance Library: http://www.home-wizard.com/maintenance/garbagedisposal.asp

And please remember, NEVER put your hand into your garbage disposal. Even if it is unplugged, the blades are very sharp and can cut your fingers.

Hope this helps.
Home-Wizard.com

QUESTION FROM Dee
my garbage disposal is not working, i don't use it anyway but every few days the sink clogs up and i have to use a plunger to get the water to drain out of sink. I noticed when i plunged the sink that water backed up into the dishwasher bottom and yuky water is sitting in bottom of dish washer what caused this, should the water from sink back up into dishwasher . help
---

ANSWER FROM HOME-WIZARD
Dear Dee: It sounds like you have a partial blockage in your drain pipe, downstream of where your dishwasher and sink drain pipes come together. And when you use the plunger on your sink, it pulls back water into both your sink drain and up through your dishwasher drain. Have you tried treating your sink drain with a product like Drano (you will want to use the appropriate Drano product for your situation)? Also, you will want to routinely flush your sink drain with baking soda and hot water, to help keep it flowing properly. Hope this is helpful. Home-Wizard.com