Garbage Disposal
Question Topic
Garbage Disposal Noise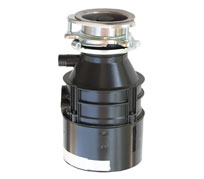 Home-Wizard™ calculates your ideal home care program to avoid problems with your Garbage Disposal, but sometimes trouble can still occur. Here are answers to questions about garbage disposal noise.

QUESTION FROM B. Abe
Our garbage disposal sounds like there is a piece of glass being cut up when we turn it on... we can't see anything in there at all. Could the spinners or blades be loose? If so, how do we tighten them? Either way it sounds awful when we turn on the disposal and want to fix it. (this has been going on for a month, if not two months).
---

ANSWER FROM HOME-WIZARD
Dear B. Abe:

First and foremost, please be VERY careful working around your garbage disposal. NEVER put your hand inside it. Even turned off and un-plugged, the blades can be sharp enough to cut your fingers.

If you have inspected your disposal, and don't see anything caught inside it, then the cause of the noise you are hearing could be a broken blade, coupling, or depending on the sound, a bad motor.

Unfortunately, a garbage disposal is one of those appliances where it is likely more economical to have a service person replace the entire unit, rather than coming out and attempting to repair it. In fact, it can sometimes be hard to get spare parts for some brands, for just this reason.

Hope this is helpful.
Home-Wizard.com

QUESTION FROM Lauren
we just changed our garbage disposal with a new one. now when you turn the new one one it is very loud like it has something metal or glass it is trying to grind up. How can we fix this and what is wrong with it?
---

ANSWER FROM HOME-WIZARD
Dear Lauren:

It sounds to me like something like a screw, or the metal punchout for a dishwasher, may have gotten left inside your disposal. Or if one of the blades is not connected properly.

You might want to try to CAREFULLY check to see if anything loose is in the unit. First be sure that the circuit breaker to the unit is turned off. Using a flashlight, you can pull back the rubber boot that covers the opening to the unit, and then look in to see if you can see anything loose in the disposal. If you want to carefully explore with your hand, remember, even when turned off, a garbage disposal's BLADES ARE VERY SHARP, and can still cut your fingers.

Hope this is helpful.
Home-Wizard.com