Outside Water Faucets
Question Topic
Outside Water Faucet Draining Maintenance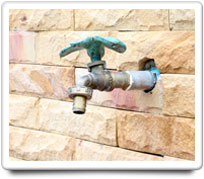 Home-Wizard™ calculates your ideal home care program to avoid problems with your Outside Water Faucets, but sometimes trouble can still occur. Here are answers to questions about outside water faucet draining maintenance.

QUESTION FROM Maria Cech
My house has plastic plumbing. The inside valve doesn't have the small drain plug. There is a small plug on the pipe above the valve. After I closed the inside valve a opened the small one, the water began to pouring. The bucket was full within a minute. I had realy hard time to shut it off. Is there a valve that doesn't have to have the small drain plug. Please advise. I am a female, who lives alone.

Thank you in advance.
---

ANSWER FROM HOME-WIZARD
Dear Maria:

Sure, we would be glad to try to help you.

First, what is it that you are trying to do? Which inside valve are your referring to? Is this one that is going to a particular appliance or sink?

If you could give us a little more information, we can then help you with some suggestions.

Sincerely, Home-Wizard.com

FOLLOW-UP FROM Maria
Hi,

I was trying to shut off the outside water outlets. There are 2 water outlets - 1 in a garage, 1 at the rear of the house. I turned off 2 valves in a basement, then went to garage and backyard and opened valves. And then according to my friends I was suppose to drain the remaining water between valves (inside of the house to the backyard and inside of the house to the garage). When I opened the small drain plug in the basement, water began running so hard that I had to shut it off and I was very lucky that I found it.

My question to you is: Winter maintenance, when you drain water between outside line valve and inside valve, must you always use the small plug or is it possible that some valves simply do not have that small plug (I would say my certainly don't).

I am desperate. My house warranty expired in July 2008, I did not touch the small plug last year. My builder is not willing to help.
---

ANSWER FROM HOME-WIZARD
Dear Maria:

Now I think I understand what you are trying to do. It sounds as part of preparing for winter, that you want to shut off and drain your outside water faucets, so that they don't freeze and burst over the winter, right?

What you are trying to do is exactly the right thing to be doing prior to the winter. If you live in a region of the country that gets below freezing during the winter, then draining your outside water valves is very important. Freezing water can create enough pressure to crack open valves and piping, and can result in flooding inside of your home.

A couple of things:

First, if you haven't already, you can go to our online Maintenance Library to the page on Outside Water Faucet Maintenance:

http://www.home-wizard.com/maintenance/outsidewaterfaucet.asp

On this page it will describe the procedure for properly shutting off and draining your outside water faucets. You will also notice that there are two photographs on this page. The picture on the left is your outside water faucet, and the picture on the right is a small valve that will be located on the inside of your house, immediately inside from where the outside faucet is located. You will want to close both valves tightly (both inside and outside valves), and then remove the small little "cap" that is at the bottom of the small valve that is right inside your house (this drains out the water that is trapped between the two valves). If water keeps coming out when this little cap is removed, then this valve has not been properly closed. This could be because the valve handle has not been turned hard enough or turned in the wrong direction, or the valve is bad.

Secondly, I see that you have signed up for our free Newsletter, but you might also want to sign up for our Free Personalized Reminders, which will allow you to input all of the particular features of your home, and then when you get your monthly Newsletter, it will include inside the Newsletter the reminders for the tasks that you should do for your particular home, to help keep you safe and saving energy, and help protect the value of your home.

Hope this is helpful. If you need anything else, just let us know.
Home-Wizard.com

FOLLOW-UP FROM Maria
Hi,

Yes, that's exactly what I was doing.

I have checked you Maintenance Library on Outside Water Faucet Maintenance and if you look at the picture, the valve inside the house doesn't have the small drain plug next to it. It is located 10 cm above the valve and when I open it, the water is pouring out.

I just want to know if it is ok
---

ANSWER FROM HOME-WIZARD
Dear Maria:

It is alright if the small drain plug is located next to the inside shut-off valve, as long as this small drain plug is located in between the inside shut-off valve and the outside faucet.

If this is indeed the case, and after you close both valves that water continually flows out of the small drain plug, then the inside shut-off valve is either not closing completely or the valve has gone bad.

Hope this is helpful.
Home-Wizard.com