Outside Water Faucets
Question Topic
Outside Water Faucet Maintenance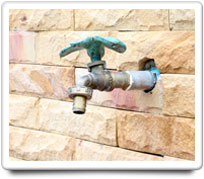 Home-Wizard™ calculates your ideal home care program to avoid problems with your Outside Water Faucets, but sometimes trouble can still occur. Here are answers to questions about outside water faucet maintenance.

QUESTION FROM Stacey
Hi I am a first time home owner and I think I already made a mistake when it comes to the outside faucet. Over the winter I shut off the outside spigot but completely forgot about the inside valve and to drain it. Now that I need my outside hose to work, I am not getting any water from it. Is there a way to fix this?
---

ANSWER FROM HOME-WIZARD
Dear Stacey:

Consider yourself lucky that the supply line to your outside faucet didn't freeze and break over the course of the winter. This is common to happen if you have not properly drained your outside water faucets in the winter, and can lead to extensive home damage if not caught early. Given the time of year, I suspect that any frozen water in your faucet has long since thawed. So, where does that leave us? If all the internal valves leading to the outside faucet are open, and the faucet itself is turned on, but water does not come out of your faucet, then your faucet itself has most-likely gone bad. The handle of a faucet connects to the valve stem.
Turning the handle allows the value to open and water to flow out. It is possible that over the winter that freezing water broke the end of the handle, which would means it is no longer connected to the valve stem (Note: in older faucets rust can also have the same effect). If this is the case you would be able turn the handle, but the valve mechanism would remain closed. If you've have some experience in "sweating pipe," replacing an outside faucet is pretty straight forward. But, if you'd prefer to have it done by a professional, you can take a look at the "Find Local Contractors" section of the Home-Wizard website ( http://www.home-wizard.com/Find_Contractors.asp ) for help finding reviews and recommendations on plumbing professionals in your area.
You can also take a look at our online "How-to-Guide" (http://www.home-wizard.com/maintenance/outsidewaterfaucet.asp ) for more information on how to properly drain your outside faucet. Since you are now signed up for Personalized Reminders from Home-Wizard, if you have checked "Outside Water Faucets" in your profile, then this task will be included in your reminders that will be sent to you in November.

Hope this is helpful.
Home-Wizard.com

QUESTION FROM Rahim
What should I do if don't have access to the small inside water valve when trying to turn off the outside valve for winter maintenance. My basement is finished and I don't have access to the valves leading outside.
---

ANSWER FROM HOME-WIZARD
Rahim:

If you do not have access to the small inside water valve that would allow you to winterize your outside water faucet, here are some thoughts: 1) I assume that you have already tried to look upstream of your faucet to see if you can find a valve that will shut off the supply to your outside water faucets. Sometimes this shutoff valve can be located quite a ways from where outside faucet goes through the wall. If you can find such a valve, then you will want to close it, and then open the outside valve to drain all of the water out. 2) Can you confirm that you have a frost-proof faucet.
A frost-proof faucet is about 16" long (depending on the thickness of your wall) and when you turn the handle on the outside of your house, you are actually shutting off the valve that is at the other end of the 16" long sleeve, which is inside of your home where it can stay warm.
You can look at your outside faucet to see if says it is frost-proof (or it may say something like "Remove hose or faucet may freeze"). 3) You can also put an insulated cover over your outside faucet, such as the one shown in this picture: http://chumsyashley.com/wp-content/uploads/2010/08/winter.jpg
You can put duct tape where the insulated cover is against your outside wall, to help further seal the cover, so as to better hold heat in and cold out. And you can put additional insulation material inside of the cover. But the safest bet is to find a valve somewhere in your plumbing that will let you shutoff the water to your outside valve.

Hope this is helpful.
Home-Wizard.com

QUESTION FROM Kris
I live in a cold climate, and temperatures are in the upper 20's to low 30's, with forecasts of low 20's for next week. I need to "top off" my hot tub, and typically use an outdoor faucet as an indoor faucet is not viable. Given the potential risk (hot tub break down or pipe damage), what do you recommend?
---

ANSWER FROM HOME-WIZARD
Dear Kris:

If what you are wondering is whether it is alright to use your outside faucet when it is below freezing outside, the answer is "yes", BUT, as soon as you are done using it, you should drain the valve (as described on the Outside Water Faucets webpage of our online Maintenance Library: http://www.home-wizard.com/maintenance/outsidewaterfaucet.asp ).

I can imagine that if you need to top off your hot tub regularly, that this can be an inconvenience to have to drain the valve each time. However, if you want to be sure that your outside water faucet doesn't freeze and burst, then its best to drain the water out after each use while the temperature outside is likely to be below freezing.

Hope this is helpful.
Home-Wizard.com