Refrigerator/Freezer
Question Topic
Refrigerator/Freezer Performance Question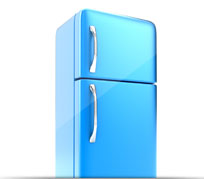 Home-Wizard™ calculates your ideal home care program to avoid problems with your Refrigerator/Freezer, but sometimes trouble can still occur. Here are answers to questions about refrigerator/freezer performance question.

QUESTION FROM RON R
Should a second home refrigerator be kept running at all times to ensure that the gas is always circulating or can it be turned off for some period of time to save power?
---

ANSWER FROM HOME-WIZARD
Dear Ron:

If you are not going to be using your refrigerator for an extended period of time, then yes, it can be shut off to save power. But here are some things that you will need to do if you are going to be turning off your refrigerator:

1) you need to remove everything from your refrigerator and thoroughly clean it.

2) prop the door open, so that air can circulate through it, otherwise you will get bad smells.

3) place a box of baking soda on one of the shelves to help absorb any stray odors.

4) turn the refrigerator around so that the door faces a wall, so that no children can get inside and become trapped.

Hope this is helpful.
Home-Wizard.com

QUESTION FROM Noel
When a refrigerator is empty and not in use, is it best for frig maingtenance to unplug it and leave the doors open or keep it running with the doors closed?
---

ANSWER FROM HOME-WIZARD
Dear Noel:

If your refrigerator is not going to be used for an extended period (more than a month for example) then , yes, it is better that it be clean throughly, unplugged and left with the doors ajar to allow air to circulate inside it.

A couple of things to note though. First, you should unplug the refrigerator at the wall, not just turn down the controls. Many frost-free designs have heaters placed underneath the toe plate that stay on even when the control is in the "off" position. Secondly, your refrigerator should be stored in such a way that the door can be kept slightly ajar, but will not allow children to climb in and become trapped inside. One way to do this is to turn the refrigerator so that it faces a wall, close enough that a child cannot squeeze in, but far enough to allow air to circulate.

On the other hand, a chest-type deep freezer is a different story. When a deep freezer is shut down, after a few months of operation they tend to rust out the Freon lines in-between the two walls, which is essentially impossible to repair. As such, it is better to leave a deep freezer running. To save energy, if no food is being stored in it, turn the control to its minimum setting. Also make sure there is plenty of free air space around it and nothing is touching it. And make sure that the door is tightly sealed closed.

Hope this is helpful.
Home-Wizard.com