Refrigerator/Freezer
Question Topic
Refrigerator/Freezer Water Dripping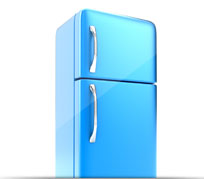 Home-Wizard™ calculates your ideal home care program to avoid problems with your Refrigerator/Freezer, but sometimes trouble can still occur. Here are answers to questions about refrigerator/freezer water dripping.

QUESTION FROM Linnie
There is water dripping into the drip pan of my 11-year-old refrigerator. The dried water is a black-red color. The water is red-orange color. It has never dripped before. What causes this and what can I do about it?
---

ANSWER FROM HOME-WIZARD
Dear Linnie:

If your older refrigerator has just begun to start dripping water into its drip pan, then the coils located on the back of the unity may have developed a large build-up of lint and dust, which can cause condensation to build up faster than water can evaporate out of your drip pan. To fix this you would need to pull out your refrigerator from the wall and carefully clean your coils. The discoloration that you mentioned in the water could be mold which has developed as a result of prolonged stagnant water sitting in your drip pan, or it could be rust.

Hope this is helpful.
Home-Wizard.com