Fireplace (gas)
Question Topic
Fireplace (Gas) Chimney Cracks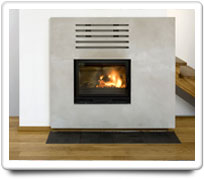 Home-Wizard™ calculates your ideal home care program to avoid problems with your Fireplace (gas), but sometimes trouble can still occur. Here are answers to questions about fireplace (gas) chimney cracks.

QUESTION FROM Martin
Due to an increase in winter temperature this last week, snow melted and I got water in my lopi insert. How could this have happened? Do I have to remove all the firebricks and replace? Can I start a fire in the stove and the water turn to steam and evaporate? Do I put a little bit of sand on the inside bottom under the bricks? This has never happened before and I have had an insert for twenty years.
---

ANSWER FROM HOME-WIZARD
Dear Martin:

I need to ask you a couple of questions first:

1) Do you have a direct vent Lopi gas fireplace insert? Or is it a Lopi stove?

2) When you say that the snow melted, and you got water in your Lopi insert, where is the water? Is that you see dampness? Or do you see a small pool of water at the bottom? How much water is there?

3) How is your unit vented? Did you have a pipe put inside your existing masonry fireplace?

Just let me know, and we can start to figure out what is happening.

Home-Wizard.com

FOLLOW-UP FROM Martin
Answers:
I have a wood burning stove (insert).
2. The water was in the firebox. Ashes absorbed quite a bit. It was like a pudding consistancy. When removed there was still small amounts of water. I took 2 firebricks out and left a sponge in their place overnight
3. I'm not sure if there is a stack inside the masonary brick chimney or not. I don't think so.

Thanks for your prompt response. I'm impressed.
---

ANSWER FROM HOME-WIZARD
Dear Martin:

. . . thanks, now I'm starting to understand your situation.

It sounds to me like the problem could likely be that over the winter your chimney crown has developed some cracks, and is allowing water to start leaking into the flue pipe, which then comes down into your stove insert. The problem could either be the crown itself or the caulking that goes between the crown and the flue.

Here is a drawing of what a typical chimney crown looks like:

http://www.rd.com/images/tfhimport/2006/200601_ChimneyLeak_001-size2.jpg

I would suggest that you have either a chimney builder or a chimney sweep who are certified by the Chimney Safety Institute to inspect and repair your chimney. It is better to have this done sooner rather than later, as you do not want water to continue deteriorating your flue.

Hope this is helpful.
Home-Wizard.com